For more information please contact us
ashmail [at] ashmoregroup [dot] com (Email Ashmore)
Latest financial results
This is a summary of Ashmore's financial results for the year ended 30 June 2013.
Highlights
Assets under management ("AuM") of US$77.4 billion at 30 June 2013, an increase of 22% during the period

Record gross subscriptions of US$27.2 billion (FY2011/12: US$13.0 billion)
Net inflows of US$13.4 billion (FY2011/12: US$1.3 billion)
Strong investment performance with 92% of AuM outperforming benchmarks over three years and 96% over one year
Total net revenue of £355.5 million, an increase of 7% on FY2011/12 (£333.3 million).

Net management fees up 4% to £311.2 million
Performance fees of £33.4 million (FY2011/12: £25.4 million)

EBITDA increased 7% to £252.2 million, resulting in a margin of 71% (FY2011/12: 71%)
Basic earnings per share of 29.98p (FY2011/12: 26.82p)
Proposed final dividend per share of 11.75p, making a full year dividend per share of 16.10p (FY2011/12: 15.00p)
Commenting on the Group's results, Mark Coombs, Chief Executive Officer, Ashmore Group plc said:
"These results demonstrate Ashmore's substantial achievements during the year in delivering outperformance for our clients across the full range of investment themes, as well as the investment in distribution and our operating platform returning record gross subscriptions over the period.
"Ashmore's experience from over two decades of investing solely in Emerging Markets is vital during periods of market volatility such as those experienced recently. It is therefore satisfying that Ashmore's client base is demonstrating its confidence in our long-standing processes through its resilience. Investors are increasingly recognising the strengths and competitive qualities of Emerging Markets in contrast to the structural challenges faced by Developed Markets, and finding that compelling risk-adjusted returns are available across a range of Emerging Markets fixed income and equity asset classes. Indeed, given the underlying strong, long term fundamental trends, the recent re-pricing presents even greater investment opportunities.
"Ashmore's specialist expertise and broad product range mean the Group is well positioned to access these opportunities for clients and to deliver profitable growth for shareholders."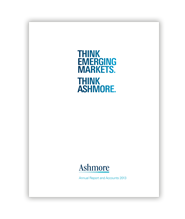 Financial calendar
Investor relations
Shareholder information